Services
On-site Fitting Service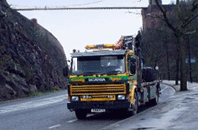 With experienced management, dedicated onsite engineers and fitters, specialist service vehicles and equipment plus respected health, safety and training standards County OTR Tyres have the resources and ability to mobilise and manage onsite earthmover tyre servicing across the South West.
Service vehicles are on hand from the strategically placed depots - Remote controlled tyre handling equipment and screw compressors are equipped on all new trucks is an example of where investment is helping customers by reducing onsite service times. Add to this fully trained and qualified Tyre Service Engineers and customers are guaranteed to receive the best possible service.
Retreading and Repair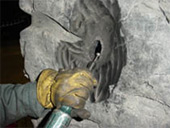 County OTR offer quality retread tyres that have been subjected to stringent control measures throughout the manufacturing process. Customers are given the assurance that a quality product going in for retreading will give a quality end product coming out.
County OTR repair tyres to original manufacturer recommendations, ensuring the quality and safety of every tyre repair. All repairs are guaranteed for workmanship. Through the TotalTyreLogic service tyre choice, tread patterns, tyre compounds, tyre pressure, rim and valve hardware are assessed. Typical tyre damage is noted and scrap tyres are inspected to see why they have been removed.
The survey enables an assessment of the performances customers are getting from tyres and establishes what on-site factors contribute to tyre performances and injuries. County OTR can then make an informed decision on tyre repair and retread suitability.
FIL and Solid Tyres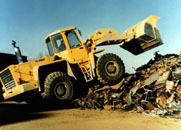 County OTR are able to give customers using tyres in harsh conditions (such as quarries, landfill sites, scrap yards, harbours and construction sites) the option to use their in-house FIL facility. FIL tyres are a cost-effective solution to tyre related downtime in hazardous working conditions. The 100% pure polyurethane filled tyre is puncture proof, virtually maintenance free and can be retreaded up to three times (dependent on casing quality).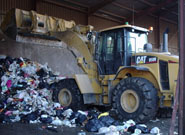 The FIL tyres are manufactured by injecting a bespoke polyurethane compound into the tyre at the same pressure as air. The compound cures to provide a resilient filling, which will never leak or puncture.
County OTR also supply and fit solid tyres - pressing them on and off the rim at their Cardiff site. These solid cushion tyres are manufactured with two rows of apertures built into the sidewall structure. The apertures allow better shock absorption than solid tyres and reduce the overall weight of the tyre. Their construction suits many working environment such as waste transfer/recycling centres, scrap yards, harsh road surfaces or dockside/ container handling sites.